" Stop thinking in terms of limitations and start thinking in terms of possibilities"..
I am a ENFJ. I help move minds and people in business. I started the Cardiff Boardroom in Aprill 2011 http://www.cardiffboardroom.co.uk/
I mentor business people helping them to look at doing things differently in business. Creating new ways of doing business, providing support for new business start ups and small business owners, taking advantage of the boardroom dynamics and expertise.
Please e-mail me on carolyn@cardiffboardroom.co.uk
Motivational corporate and individual self employed business coach, with over twenty three years corporate health and fitness experience with Ford Motor Company, Bridgend Engine Plant in South Wales being my main client.
Qualified Counsellor BAC Swansea University.
Started a Health and Fitness acitivities rota, for Swansea HMPrison.
Promoter for Teaching the Teacher Exercise Education Courses for London Central YMCA through out South Wales.
Co owned and set up a Cyber Cafe and public computer training business called Uplands Online, Swansea.

I started the Cardiff Boardroom (private) in April 2011 to attract like-minded people who support self employed individuals and small businesses. I invite 'key' influential people to the Miskin Manor Hotel, Llantrisant, Cardiff for café style conversations ~ 'shaping our futures through conversations that matter'. My last guests were, the awesome and influential Mr. Warren Gatland, Wales and Lions Rugby Head Coach and Andrew Field, Director for Zenith Distributors in Zimbabwe.
Owner of The Cardiff Boardroom 15-04-2011
Business History In excess of twenty three years experience facilitating an on site health and fitness service to Bridgend Engine Plant/Ford Motor Company. Before becoming a BlackStar I was a member of the Waterfront BNI and the Chamber of Commerce. Throughout my business career I have gained invites to present corporate well-being, EI ~ emotional intelligence re: body language and how a growth mind set affects our body language and our ability to network from WDA, South Wales Chamber Of Commerce, Waterfront BNI, Momentum Club, OSBSD, and the Liquid List.
I welcome speaking invites from professional and business groups, please e-mail me at carolyn@cardiffboardroom.co.uk
A few testimonials
Bob Murphy. Plant Manager, Ford Motor Company, Bridgend Engine Plant. Client "Ford Motor Company is strongly committed to the welfare and well being of all its employees. Twenty two years ago we felt it important to engage Carolyn as our Health and Fitness professional to advise our employees on all aspects of lifestyle management. To this day she remains an integral and very important part of our organisation. Carolyn's dedication to her job and commitment to our company's health policy is self evident and she is well known and well respected by all who come in to contact with her. Her caring nature and professionalism is second to none. She is a great asset to our organisation. I would not hesitate in recommending her to companies who are looking to offer a similar programme to their employees."
Lisa Cherry tweeted: Fab! Your bubbly energy comes right through the screen! I love that and its a rare quality x... and a lovely smile!.
Emma James, Carolyn has been coaching me through a recent personal crisis, providing support, guidance, care and insights, imparted unconditionally and non judgementally. At my lowest points, Carolyn has been a consistent force, bolstering my shattered sense of self worth and dispelling my doubts. She's been instrumental towards my recovery and her words have given me hope for a brighter future which I know I'm capable of creating. Thank you Carolyn June 29, 2011 Top qualities: Personable, Expert, High Integrity
About Me I love life and make the most of every moment. I am fun, spontaneous and enjoy lively conversation. I love sunshine and living by the sea. Enjoy watching Top Gear and listening to Radio One/Radio 4 programmes. I love lots of quick witted banter in calm surroundings to offset my hectic job! My job is on the go, and a very upbeat and a lively humour is therapy.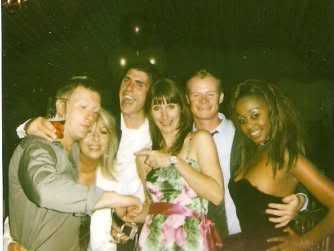 Watching first class Rugby a must :) Shane Williams, my favourite Rugby player since the First World Rugby Cup. Graham Henry hails Shane Williams as Wales' best in a generation. "I would rather retire than be retired. But you never say never" Shane Williams Wales' record try scorer Drooling over nice cars and the outdoors! Love fine art; architecture mixed with desk top graphics.
I naturally inspire and influence connections through example. So I was only too pleased to encourage another dear connection to enjoy his passion for sport and music. Milton Rodriguez, a Harrow based business man became a loyal connection and I actively promoted the idea of his taking the lead in organising ecademy's first Cricket Match on September 20th 2009. Seeking motivated clients who want to invest in generating more profit/wealth through better health for themselves and their businesses.

'Connect and become the architect of your future!'. Smile, well there ain't no going back!'
I am looking at ways of offering social media savvy, emotional intelligence re: how a growth mind set affects our body language and our ability to network, customer care skills plus well-being mentoring for small businesses, entrepreneurs, ex forces, new start ups, providing support and training taking advantage of the boardroom dynamics.
Warm Wishes, Carolyn
Contact carolyn@cardiffboardroom.co.uk
Mobile number: 07968567558
Follow me on Twitter
http://uk.linkedin.com/in/carolynwilliams
Skype me Wellbeingcoach1
Let's talk?
Warm Wishes, Carolyn Williams,