Going abroad with your mobile phone? Read on.....
Do you use your UK mobile while you're traveling abroad?
Our Simply Travel SIM card will cut your International roaming costs!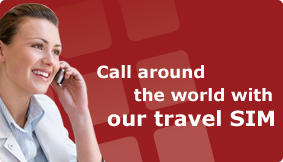 Simply Travel SIM cards support low price, high quality calls to be made from your mobile handset while you're abroad. Low rates to make & receive calls and in over 50 countries you can receive calls Free of charge. Our great auto-recharge service means that you'll never run out of credit whilst overseas on holiday or business. When your remaining credit drops to below £3, your Simply Travel SIM card will automatically re-credit itself via your supplied credit card with the amount agreed upon at registration.... It's so easy. Buy your Simply Travel SIM, install it in your mobile and you're ready to go! Low outgoing call rates FREE* or low incoming call rates Automatic recharge feature SMS Voicemail Why wait - buy one today.......