Thank you
for looking at my profile.
Photo: Fire Goat - courtesy of Chris Rennie photography
www.chrisrennie.co.uk/gallery.html
I'm half Fire Goat and half Glaswegian. Born in Glasgow from a Scottish Mother and Hong Kong Chinese Father. My Father was one of the first Chinese restaurateurs in Scotland. I love food. I've always lived in the UK and have travelled to countries far and wide. There's still so much more to see.
Both parents have given me passion, determination, strength of character, and tenacity. My sister and I aged 3 and 5, were brought-up by our Mother for ten years on her own. My Mother taught my sister and I by example. She was and still is a very compassionate lady and an incredibly hard worker. At one time, she had seven part-time jobs. She worked hard to give my sister and I opportunities that her parents were unable to give her.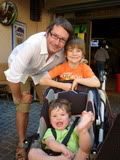 I've been married for nearly 16 years and we have two gorgeous sons. Zach is 2 years old. Alex is 8 years old.

I think I've led a fairly typical corporate life. After gaining my degree I worked for 10 years in fashion and textiles from the buying offices of The John Lewis Partnership to selling Silk garments to many High Street retailers, merchandising for a Ski-wear company and five years selling childrenswear into Marks and Spencer before working for the oldest snooker table manufacturer in the world, Riley. I've just finished 6 years of selling very niche medical products in cardiac surgery. I felt very privileged to work in such an environment. I absolutely loved it. Now it's time for a big change. A calculated risk into self-employment. Get Seen joins together 3 very talented local chaps & me. We're working firstly with local businesses helping them get seen, get new customers and keep their current ones too using digital media. Working with local talent, nurturing skills and knowledge with the immediate and wider community. The chaps are web and graphic designer, photographer, video/film makers, editors, broadcast journalist, writer, speaker, author and super tweeter. We're totally digital. Totally love people. Totally social. Totally love connecting. Our focus is local, regional, national, global. The web brings everything within local reach.
create your own visited country map
or check our
Venice travel guide
I support: